Three minutes of communication that create changes in the organization
No matter how many communication skills we master, communication will not change if the meaning, purpose, and interpretation of communication in each of us does not change.
What enables us to change our interpretation of communication? Experience does. Our Three-minute Coaching workshop seeks not just to provide a cognitive understanding of communication but also the very "experience" of changing how we communicate.

Refining leadership through experiential learning about the premises and understanding behind communication
This workshop helps participants become aware of the premises behind their communication and broadens their understanding of communication, which will lead to changes in the quality and quantity of their communication with the people around them.
Flow of the Workshop
Web surveys

Participants identify their own communication characteristics through a three-minute coaching inventory. This helps maximize the workshop results, providing the foundation for becoming aware of the unconscious premises behind their own approach to communication and learning new approaches.

Workshop
(seven hours)

This workshop, facilitated by highly experienced, certified coaches, focuses on exercises related to understanding, approaches, and objectives of communication. In addition, the lectures, which incorporate various findings revealed through academic research, provide a range of perspectives on communication and leadership from different standpoints. Through the workshop, you will experientially learn new interpretations and perspectives on communication.

* Three-minute Coaching workshops are conducted through the web conferencing system
Point 01

A chat between two people at a platform while waiting for a train

Three-minute Coaching is a platform for creating conversations on the spot, in an instant, during your daily work. It is a platform where we reflect on the "now" and coach for the "near future." The keys to success are frequency and continuity.

Point 02

Pause and see

Creating a moment to "pause and reflect" during your daily work routine. Pausing and reflecting on your communication can change your routines. In other words, the organization changes as the people, who have experienced changes in their understanding and meaning of communication, begin to communicate with those around them.
As with COACH A's other services, the goal of Three-minute Coaching is "Subjectivation" and "the chain of Subjectivation" of leaders and future leaders. Communication among such Subjectivated leaders can change the company's current routines.
What do participants actually take away?
I realized that I tended to focus more on delivering only what I wanted to say, while only pretending to be listening. Therefore, I want to be more conscious of understanding others.

My negative perceptions of 'disagreeing' have changed as I realized some values can only be understood through disagreement.

Since this training is not just intended to acquire skills, we need to keep in mind what we've learned through our everyday activities.

I was reminded of the importance and necessity of communication itself.

I clearly understand now what needs to be different in my routine communication.

It provided me an opportunity to develop the awareness to build a stronger team.

Now I'm thinking that the first step towards transformation is changing how we communicate.
References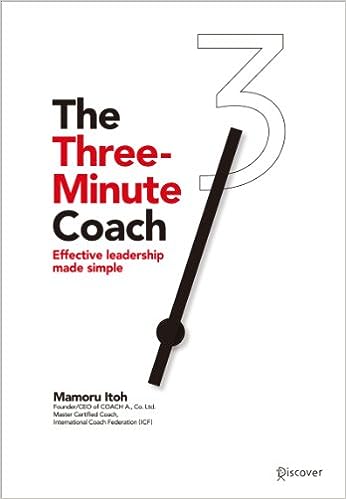 The Three-minute Coach
The simplest management technique in the world for those with one or more subordinates