Coaching for Healthcare Executives/Managers
To succeed in the face of rapid changes in
healthcare management
Organizational management in an age of multifunctional cooperation
We have been hearing more and more voices from healthcare executives and leaders like the following:
"In the medical field, we tend to prioritize solutions to the pressing challenges that arise each day. However, from a long-term perspective, it may be more important to develop an environment for training talent capable of taking leadership roles."
"As healthcare grows increasingly complex and sophisticated, multifunctional collaborations across professionals become increasingly important. But because hospital staff are composed of specialized professionals, there are barriers between sections and job categories, which can impede joint efforts. Hospital management needs new management capabilities to achieve results across the entire organization."
The environment surrounding healthcare management is undergoing rapid and significant changes, including shifts in healthcare needs, revisions in medical reimbursement, and workstyle reforms. COACH A facilitates the realization of organizational development by supporting healthcare leaders and working together with the staff to navigate this period of intense transformation, harnessing the collective power of the organization.

Systemic Coaching™ for Hospital Directors and Management
COACH A's Systemic Coaching™ is a coaching approach that begins with a leader and aims to develop the entire organization by increasing the level of dialogue within the organization.
What type of hospital organization do you want to create?
Staff actively engage in communication, transcending the boundaries of their respective roles.

Staff are tackling their work with creativity.

Staff communicate their appreciation and gratitude to one another.

Ideas for improving the quality of healthcare are actively proposed and there is a constant drive for improvements at any time anywhere.

Staff trust their colleagues and want to keep working over the long term.
When influential leaders engage in more dialogue with staff, they help realize an ideal organization.
Studies by the Coaching Research Institute (CRI) show that both the behaviors of leaders and the volume of communication within the organization impact that the organization's vitality.
The correlation between leadership and organizational vitality
The organizational vitality grows when leaders communicate vital and inspiring visions and take initiatives on various fronts.
The correlation between an innovative culture and organizational communication
One essential factor for realizing an innovative culture is the communication between top-level leaders and collaboration among departments in the field. Communication among top-level leaders has a significant impact on the entire organization.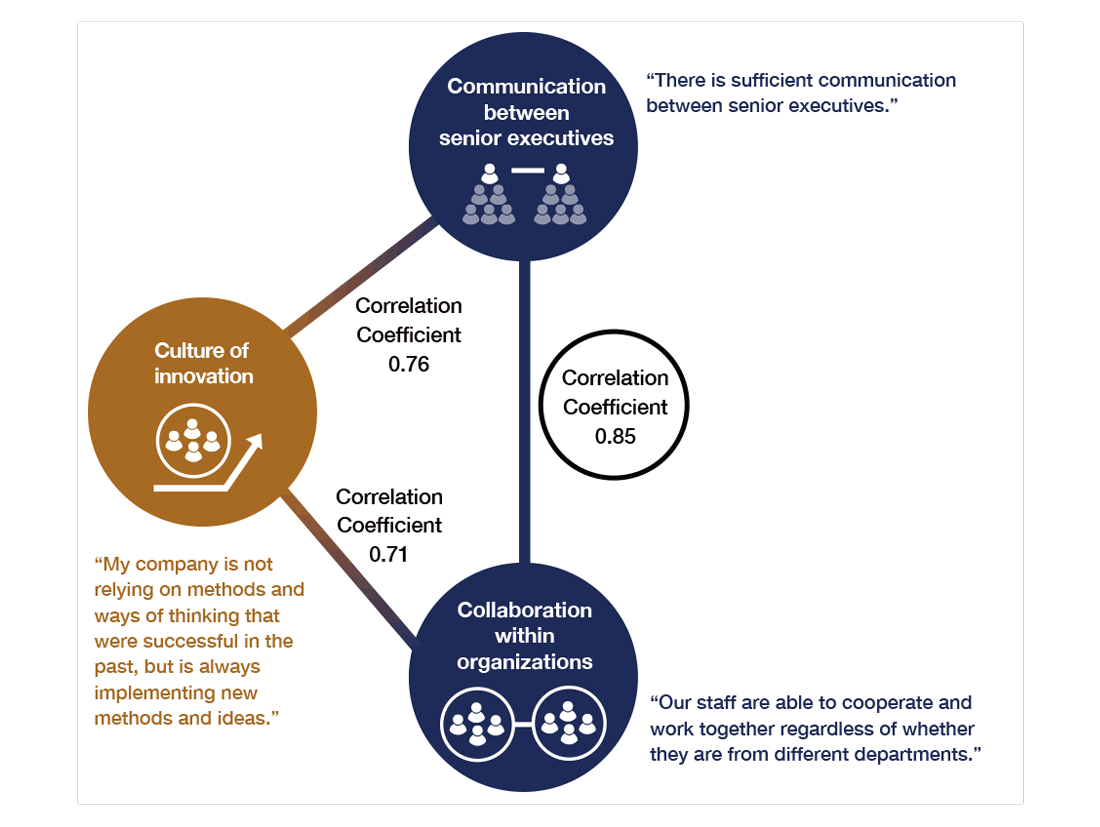 Why did we adopt coaching in our hospital?
Introduced below are some comments from clients who have implemented coaching.
We provide notifications about case study sharing sessions and lectures related to hospital implementation. If you have any questions about our services or would like to receive updates and announcements, please contact the email address below.